The Award-Winning
Lewis's Farm Shop, Wrexham
When you visit our idyllically situated farm shop in Eyton near Wrexham, you will enjoy far reaching views of the stunning borderlands of North Wales and whilst we are extremely proud of our beautiful location, our true passion lies in offering great quality produce, excellent value and a hearty welcome to our valued customers.
Both our butchery and kitchen are open for public viewing from our shop.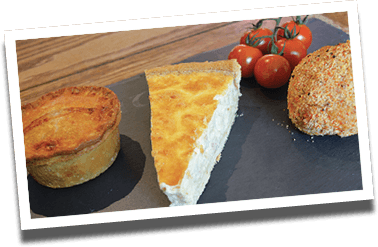 Kitchen & Deli
Our highly talented kitchen team bakes an array of sweet and savoury goods daily, which are all prepared from scratch using the finest ingredients and traditional techniques. Our deli counter is well-stocked with homemade pies and quiches, as well as locally sourced cheeses and speciality produce. Our bakery offers tempting treats, including fresh cakes, pastries and scones.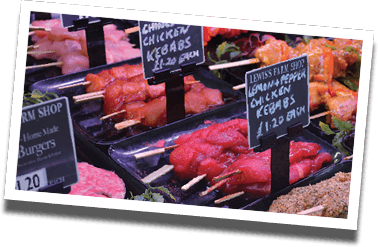 The Butcher's Counter
Our in-house butchery prepares all our locally sourced meat, for which we have won multiple awards over the years. As well as succulent joints of meat, we make a variety of fresh sausages, bistro-style burgers, kebabs of various flavours and sizes, home-cured black bacon and much more.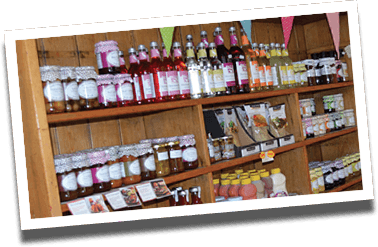 Farm Shop
In addition to produce freshly prepared onsite, our farm shop is stocked with an extensive selection of seasonal vegetables, preserves, condiments, frozen goods and ice cream. We source goods locally wherever possible and from specially-selected British food producers.
Everything you need to make delicious, home-cooked
meals can be found at Lewis's Farm Shop
Freshly prepared beef, lamb, pork and chicken
Award-winning sausages and home cured black bacon
Bistro-style burgers and kebabs
Homemade pies, quiches, cakes and scones
Welsh and English cheeses
Free range eggs
Speciality preserves and condiments
Cheshire Farm Ice Cream